My hubby and I are members of 4.0 Cellars Winery outside of Fredericksburg. I'm sure you remember my mentioning that Fredericksburg Wine Trail is now one of the most popular in the country. On the weekends, there are a number of vans and limos on Highway 290 and others radiating from Fredericksburg. They take passengers safely from one winery to another to taste their Texas (mostly) wines.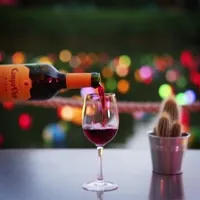 Last Saturday, as wine club members, we were invited to the 4.0 Cellars Winemaker Dinner. As we entered, we were offered a choice of one of five wines:
McPherson Cellars Dry Chenin Blanc 2016
Brennan Vineyards Tempranillo 2015
McPherson Cellars Les Copains Red 2015
Lost Oak Winery Viognier 2016
4.0 Cellars Gewurztraminer Frizzante 2015
As we mingled with other guests, servers from August E's Restaurant brought out Maple Bacon Wrapped Brie, Mini Shrimp Cocktail Cups, and Vegetable Empanadas with Verde Sauce. This restaurant was also in charge of our meal. Nine of us gathered around a huge round table outside under the covered patio.
Our First Course was Organic Field Greens with Arugula, Sliced Prosciutto, Burrata, Caramelized Apples, and Sliced Almonds with Apple Cider Vinaigrette. This was accompanied with McPherson Cellars Piquepoul Blanc 2015 - delicious.
The Second Course - Beef Short Ribs Bourguignon and Smashed Red Potatoes with 4.0 Cellars Montepulciano 2015. Not a big fan of red wines, but very good.
The Third Course - Pear and Hazelnut Torte with Salted Caramel and Vanilla Anglaise - Brennan Vineyards Mistelle 2015 - sweet and tart white wine.
We were totally stuffed with all the wonderful food and the great selection of accompanying wines. Such a treat. Wish you could have joined us!
Linda Kay